There is a huge choice of outdoor sports activities locally, see also the Specialist Breaks section.
For an easy family walk, the Gorges de la Fou offer a walkway up a gorge in a pleasantly cool setting, a great place to escape the summer's heat!
http://www.tresvents.fr/gorges-de-la-fou.php
You can choose from many walks locally and even climb up to the rock above Mas Nialgue where this picture was taken.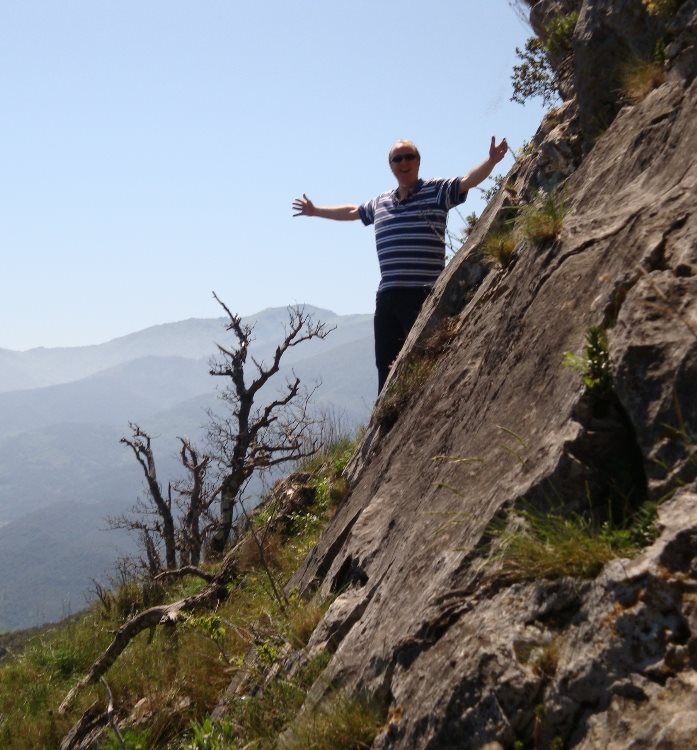 For the more adventurous, Mount Canigou, one of the highest peaks in the Pyrenees is not far away and can be seen locally with snow on its summit well into June. There are trails and tracks right up to its peak.
Horse riding across the mountain trails is available 5 minutes away at Forest Horses.
Forest Aventure offers a wide variety of outdoor activities from Amelie Les Bains.
There are awimming lakes at St Jean Pla De Corts.
Golf
There are several golf courses in the area, Domaine De Falgos, an 18 hole course at 1,100m altitude with views to the Costa Brava and Mount Canigou, par 70 and 5,047m long, designed by Alain Dehaye. Also Saint-Cyprien, just 800m from the Mediterranean offers 18 and 9 holes, designed by Ben Wright and Barry Tomlinson, par 73 and 6,480m long. Club de golf Torremirona, just over the border in Spain has 18 holes and is par 72 and 6,245m long. Club de golf Peralada, also just over the border in Spain has 18 or 6 holes, par 71 and 6,704m long. There are also 9 hole courses at Amélie Les Bains and Camprodon.

Fishing
During the fishing season Al, Bryan and Derek, all keen fly fishermen came down to check out the fishing locally. There are many rivers and lakes to fish in and everyone caught one, but none large enough for the pot! Here's what Al had to say:

Fly Fishing - River Tech at Arles Sur Tech

The River Tech at Amelie le Bains hosted the World River Fly Fishing Championships in 1998 and is unbelievably clear. If you can see the trout then they can see you, so stealth and care is required ! There are brown and rainbow trout with an average size of half a pound but a local told us of much bigger fish occasionally caught.
We found the wooded stretch of water at Arles Sur Tech to be the best. Park in the large car park near the river in Arles Sur Tech and cross the footbridge and turn left and then fish from Arles Sur Tech centre back towards Amelie le Bains. The trout seem to hide in the daytime in the rivers edge, particularly in the dark weed areas where they are difficult to see. The water is so clear that if there were trout mid water then you would see them. We did not fish before 9am or after 4pm but I suspect the trout may move into mid water at dawn or dusk so very early morning or evening fishing could be more productive than daytime fishing. We would recommend thigh waders and a size 5 rated rod and line. We fished gold head hares ear nymphs to catch our fish, but we suspect weighted Czech nymphs, goldheads and the usual river dry flies would work. We suggest you fish into the rivers edge and the fast flowing riffles.
Thanks Al!
For lots more info and to buy your licence online see
http://www.peche66.org/